IT Solutions
Application Service Provider
Area Networks is a full service Application Service Provider specializing in local and wide area networking solutions that utilize the latest technologies from Microsoft, Cisco, and Hewlett-Packard. We develop and host applications using MS .NET technologies.
Area Networks understands your business processes and procedures have evolved to fit your particular market niche, and your custom practices are instrumental to your company's ongoing success. Combining a Microsoft SQL Database with an ASP.NET web-based user interface, a custom application can be designed for you, avoiding the limitations of an off the shelf software package.
Integrated Technical Solutions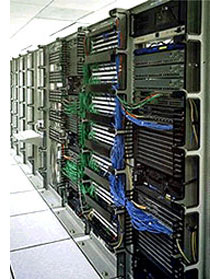 In addition to being a corporate Internet Service Provider and Co-Location Facility, Area Networks provides solutions to many of today's technical problems with software and hardware. Our experienced staff will determine what you need and will design and engineer a practical solution and implementation tailored to your specific needs. In addition to software development we can incorporate necessary hardware from numerous industry leaders as well as high performance hosting and help desk support.
Our staff is trained in today's state-of-the-art technologies, high performance applications, programming languages as well as their operating environments.
Information Technology Services
Problems with your Microsoft exchange Servers, SQL Servers, or Domain controllers are common across all industries.
Exchange and other enterprise solutions can be incredibly complex to install & maintain. In many cases, it is necessary to employ an entire staff of individuals to deploy and maintain these solutions. Finding and retaining qualified individuals to manage these servers can become very time consuming.
Unfortunately, while you search for a new Systems Administrator, your users may experience difficulties. They may complain about network performance, inoperable internet connections, or accidentally delete files that were not backed up, and are unrecoverable. Your whole network is extremely delicate and dependent on many variables; when something goes wrong, the whole network may fail, thereby negatively impacting your business.
Area Networks has the resources available to eliminate these problems, while lowering operational expenses. We can manage these complex services and servers for you. Our experienced professional staff can manage:
Day-to-Day Server Operations
Installation & Upgrades
Backups
Disaster Recovery
Performance Tuning
Network Security
LAN & WAN Networking
Internet Access
Customized Solutions
We can design an application around your company's business model, rather than trying to adapt your business to conform to an "off the shelf" software package. We listen to you, and understand how your operations work, and then devise a solution that is exclusively for you. If you are expanding or modifying your network environment, our network architects and engineers can also assist you in developing the right configuration for your business.
When you have a question or a problem, you want help, but when things are running smoothly, you don't want to incur unnecessary costs. We make sure our specialists assist you only when you need them. To employ a full staff of individuals can have a significant impact on your company's budget. We provide our professionals to you on an as needed basis so you don't have to pay unnecessary salaries and benefits. The overall savings can make a big difference.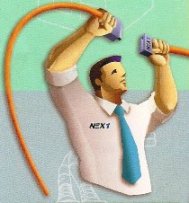 We recognize your situation and company are unique, and we have a diverse team of professionals on our staff to address your needs. Our Help Desk has the finest Systems Administrators and our Information Systems Department has top notch System Engineers & Network Engineers trained in HP, Microsoft and Cisco technologies. Our developers are all trained in the latest Microsoft technologies: VB, ASP.NET, and SQL. Many of today's newest applications are being written for web instead of the old client server models. If you have a legacy client server application, we have the technology to "web-enable" it. Even the old "green screen" hosted applications can now take advantage of a web browser's graphical user interfaces.
In today's society, change is constant. It may be impossible to predict the skill set you will need to have on hand. Our team is trained to use the latest technologies to help you achieve your goals. Our team of specialists has a diverse skill set, and the most up-to-date training. We make sure they have the skills you need, whenever you need them.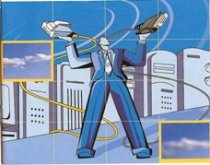 Our Facility
Do you have servers in your environment that deploy mission-critical applications? What happens when they go down or can't communicate with other components within the critical infrastructure? Everything is impacted. Supply-chain suffers. Order-taking suffers. Manufacturing suffers. The bottom-line suffers. Area Networks is well equipped to handle these issues. We can bring your servers into our secure, world-class data center, or you can keep them at your facility, and we can manage them remotely. Either way, we keep your business running. Our Networks Operations Center (NOC) is a state-of-the-art facility with auxiliary support systems. Our redundant computer room air conditioning systems (CRACs) ensure that the room temperature will never fluctuate from the optimal level. We also have redundant UPS battery backup systems on site, and a secondary power support that is supplied to the Data Center by a closed cooled diesel generator that, if needed, can be converted to natural gas.
Our Promise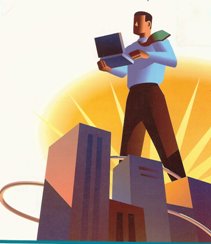 Area Networks specializes in customer service. We recognize that long term customer satisfaction is the only way to excel in today's highly competitive market environment. We assist our customers so they can achieve their information technology goals on time, on budget, and without compromise. Our concern for your solution is evident by our can-do attitude, our availability and persistence with problem solving, and our quick turnaround of your requests. We monitor your systems, networks, and applications twenty-four hours a day, seven days a week. When a problem occurs, we address it immediately (either manually or automatically), usually before you are even aware there is an issue. We provide you with a reliable, secure server environment, and ensure that you can access your email, files, and applications at all times. No matter what configuration, hardware, or software your company uses, we focus on business continuity.
We can help you make your network environment stable and secure, ultimately making your company more efficient and profitable.